Halloween (or any day) Baking for your Pets
Date Posted:6 October 2017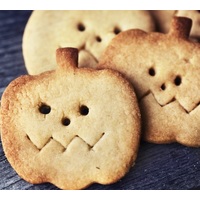 With Halloween fast approaching, don't forget your furry trick or treaters! Start prepping now with this easy recipes that you can bake or freeze ahead of time.
If, like me, you are challenged by flour, crack open a Mix & Bake kit and you won't have anything to worry about.
Happy baking!
Microwave Vegemite & Peanut Butter Donuts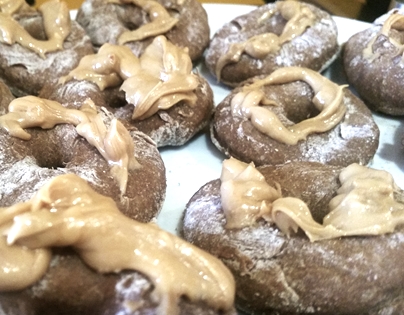 Talk about easy! This recipe makes around 12 donuts - this photo is from my second batch. Batch one was, well, practice.
Ingredients:
1 free range egg
2/3 cup water
1 tbsp vegemite
2 cups whole wheat flour (I used wholemeal spelt)
3 tablespoons oats (any kind)
Optional - peanut butter drizzle
1. Grease a shallow, microwave-safe plate or baking dish. Set aside.
2. Whisk together the egg and broth in a large bowl. Gradually stir in the flour and oats (I'm lazy and chucked everything into the mixer). Turn dough out onto a floured surface and roll out to 1cm thickness. Cut out cookies using a round shape. Use a smaller round cookie cutter to cut out the center hole (I used the end of a funnel). Place on prepared plate, arranging the cookies on the dish without crowding them.
3. Cover with a paper towel (oops, I forgot this bit), and cook in the microwave on high until firm, about 10 minutes. Repeat steps to use up the remaining dough. Cool on a wire rack.
Frosty Yogurt Berry Layered Parfait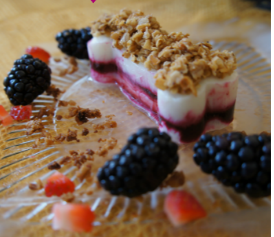 Ingredients
1 tablespoon of Greek Yogurt
1 tablespoon of Plain Yogurt
2 teaspoon of fresh blackberry juice or a few fresh blackberries
4 strawberries
1 tsp toasted coconut honey oats (diy)
Use a Bone Shape as a mould or anything you have lying around.
1. Pour Greek yoghurt into the mould and freeze for around 1 hour.
2. Pour blackberry juice or smashed fresh blackberries into the mould and freeze for around 20 minutes.
3. Add strawberries and cover with plain yoghurt. Freeze for around 20 minutes.
5. Sprinkle with the toasted oats and freeze for another 10-15 minutes
Serve on a hot day!
Peanut Butter and Pumpkin Dog Treats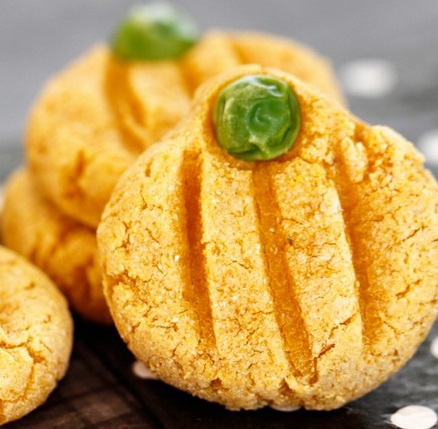 Ingredients
2 1/2 cups whole wheat flour
2 free range eggs
1/2 cup mashed pumpkin (canned is ok)
2 tablespoons peanut butter – crunchy or smooth
1/2 teaspoon salt
1/2 teaspoon ground cinnamon
1. Preheat oven to 175 degrees C.
2. Whisk together the flour, eggs, pumpkin, peanut butter, salt, and cinnamon in a bowl. Add water as needed to help make the dough workable, but the dough should be dry and stiff. Pinch off pieces of the dough and roll into ball, placing them on a prepared baking sheet. Squish each ball with a fork and, for a bit of extra something, place a frozen pea on the edge (as per the pic) so the bikkie looks like a pumpkin.
3. Bake until golden and crispy, around 40 minutes.
Makes around 25 biscuits
Fruity Frosts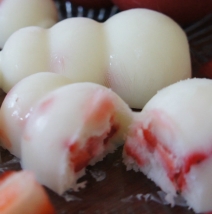 This is a great recipe to stuff inside your Kong. You could even "sacrifice" one of your Kongs by cutting it lengthways so you can unmould it once the stuffing is frozen.
Ingredients:
(Adjust amounts to suit your mould)
1/2 cup plain yoghurt (sugar free)
2 tbsp Coconut Oil
1/2 banana sliced
3 Strawberries sliced
1. Mix yoghurt and coconut oil together and pour into tray mould.
2. Add sliced bananas or strawberries.
3. Freeze overnight and serve.
Cinnamon Scrolls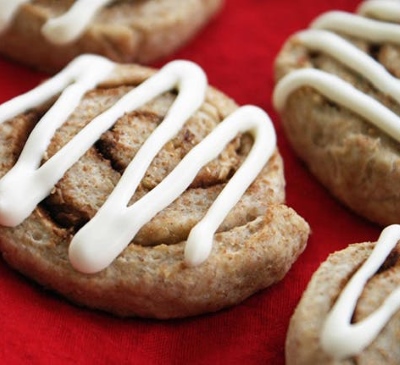 Ingredients
2 cups wholemeal flour
1 tsp baking powder
1/4 tsp salt
1/2 cup water or milk
1/4 cup vegetable oil
1 large free range egg
2 tbsp honey
1 tsp cinnamon
1/4 cup finely chopped walnuts or pecans (optional)
Cream cheese drizzle (optional):
1/4 cup light cream cheese
1-2 tbsp milk or water
1. Preheat oven to 180 degrees C
2. In a large bowl, combine flour, baking powder and salt. In a small bowl stir together water, oil and egg. Add to the dry ingredients and stir until you have a soft dough.
3. On a lightly floured surface, roll or pat the dough into a rectangle that measures roughly 20 x 35cm. Drizzle with honey and sprinkle with cinnamon and nuts, if using. Starting from a long edge, roll up the dough to form a log. Using a sharp serrated knife or (even better) dental floss, slice into 1.5cm thick pieces and place slices cut side down on a baking sheet or tray that has been sprayed with nonstick spray.
4. Bake for about 15 minutes, until springy to the touch. Wait until they have cooled completely before you drizzle with frosting.
Makes about 2 dozen biscuits. Store extra in a tightly covered container of freeze. If they are frosted, store the container in the fridge.
Apple Parmesan Bikkies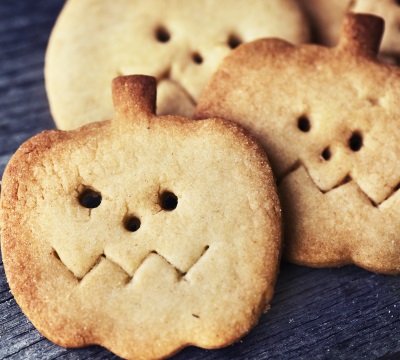 Ingredients
2 cups barley flour (or wholemeal flour)
1/2 cup oats
1/3 cup shredded cheddar cheese
1/4 cup grated Parmesan cheese
1/3 cup unsweetened applesauce (use baby applesauce)
2 tablespoons olive (or any vegetable) oil
1. Preheat oven to 175 degrees C. Line a baking sheet with baking paper.
2. In a large bowl, mix together all ingredients and about 3 tablespoons of water to form a dough. Roll out the dough between two sheets of plastic wrap until it's around 5mm thick. Remove plastic wrap and cut out biscuits with a small bone-shaped cookie cutter (or any fun shape).
3. Space biscuits 2cm apart on prepared baking sheet. Bake for 30 minutes until brown.
4. Transfer biscuits to a wire rack. When cool, store in an airtight container up to 2 weeks.
Makes around 16 biscuits
---
Leave a comment