Keep Your Pet Safe This Halloween With These 5 Tips
Date Posted:25 October 2017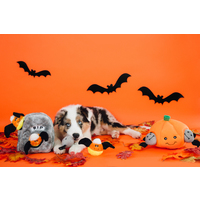 Halloween is almost here, and your furry friend is sure to bring out their mischievous side during this trick-or-treat event!
And even though we don't celebrate Halloween traditionally in Australia, kids and adults are enjoying the occasion more and more. So here are our top tips to for pet safety during this mystical and wickedly fun event:
1. Confine your pet in another room and away from the front door.
To prevent your dog from greeting your trick-or-treaters too enthusiastically or keep your pet from running out the door into the night, it's best to secure them in one place or in a "safe zone" in your home to ensure their safety as well as your costume-clad visitors' safety. This is especially important for pets that get scared or anxious easily when strangers are constantly ringing the doorbell or knocking on your door.
For pet parents who have a pet door, close it and keep it locked or secured so that your furry friend doesn't exit your home unexpectedly. If you have a close friend or family member available to watch your pet in the room and keep them company, that can also help maintain some peace during the parade of Halloween goers.
Also, please make sure to confine your pet indoors and not in the backyard or frontyard since pranksters may tease, aggravate or even injure them. This is especially important for black cats due to the superstition of black cats and how they link to Halloween. But we all know they're adorable feline friends that don't bring bad luck!
Bonus Tip: If you want to keep your pet inside your home, but avoid having to answer the door multiple times throughout the night, why not enjoy the outdoors, sit outside your home, and greet trick-or-treaters while passing out candy. This can help reduce your pet's stress as well since they will be indoors while you're outdoors. However, if you don't want to leave your best friend inside alone, you can stay with them and let someone else handle Halloween duties (e.g., a loved one or someone you can hire to help you with passing out candies on Halloween night).
2. Keep your animal companion calm with anxiety-relief products.
If your furbaby has anxiety when strangers visit frequently, you can give them peace of mind and reduce their anxiety by using pet-friendly, stress-relief products. Here are some of our most effective ones that you can try:
Feliway – A brand that specialises in anxiety relief for cats, Feliway features a diffuser kit and pheromone spray that keep kitties content even in typically stressful environments. Feliway make both a plug-in diffuser and spray that contain a special and pet-safe, calming formula to relax your feline friend. The diffuser works for an entire month, and you can use it in the room your cat will be confined in during Halloween - start using it a few days before the even for more effective benefits. (Psst! If you love the Feliway Diffuser, we have refills available when you need to replace the bottle.)
The Feliway Pheromone Spray can assist you with targeted stress-relief; for instance, if there's a particular location or environment where your cat experiences anxiety, such as in the car. The concentrated formula and freedom to spray in specific areas will give you more control over your pet's stress relief and relaxation.
Thundershirt Vest – Want a spray-free, drug-free, and eat-free way to mollify your pet's anxiety? The Thundershirt Vest is an excellent alternative to other anti-anxiety products! This vest is also ideal for furry friends that don't mind wearing clothing. Specially designed to fit snuggly around your pet, this unique vest has a calming effect due to the comfortable pressure applied to the body. With over 80 percent success rate, this vest is effective and soothes your pet while they wear the vest all day long; the Thundershirt Vest is perfect for vet visits, travelling in the car, and more. We have Thundershirt Vests for dogs and cats in various sizes available.
Vetalogica's Canine Tranquil Formula – For a chewable, tasty tablet that helps reduce anxiety in your pet and will be easy for them to eat, the Vetalogica's Canine Tranquil Formula is a safe and effective edible tablet containing natural ingredients to aid in balancing and maintaining emotional health and wellbeing. The Vetalogica's Canine Tranquil Formula is non-drowsy, so your dog will still be able to run around and play – just without the everyday anxiety they may feel from being around strangers, when separated from you, etc.
3. Make your pet's environment candy-free.
Candy, especially chocolates, aren't digestible for animals and can even be toxic to our animal companions, so avoid putting your Halloween candy bowl, bag or container in an area that your pet can't reach. Chocolates are poisonous, and even fatal, to pets, particularly dogs, because of the cocoa and caffeine in chocolate. If you think that your pet has ingested chocolate, even just a small chunk, it's best to contact your vet or local animal hospital immediately.
Many other sweets contain artificial sweeteners like xylitol that can also cause adverse effects; it's vital for your pet's health to keep those lollies away from them. (But that doesn't mean you can't enjoy snacking on them while you wait for your Halloween visitors!)
You can still give your dog a fun, pet-friendly Halloween treat to make them feel included in the festivities. Here at Lucky Pet Supplies, we have a variety of entertaining treat-dispensing toys, Halloween-themed toys, costumes, and more for your furry friend to enjoy. Some of our featured products are listed in the following:
ZippyPaws Burrow – Bats In A Pumpkin
Perfect for the curious canine in your life, this Halloween-themed ZippyPaws Burrow features three squeaky bats hiding in a pumpkin-shaped burrow. Your dog will burrow through the holes of the toy and save their bat friends, making this a challenging toy for your pet to use to stay occupied during Halloween.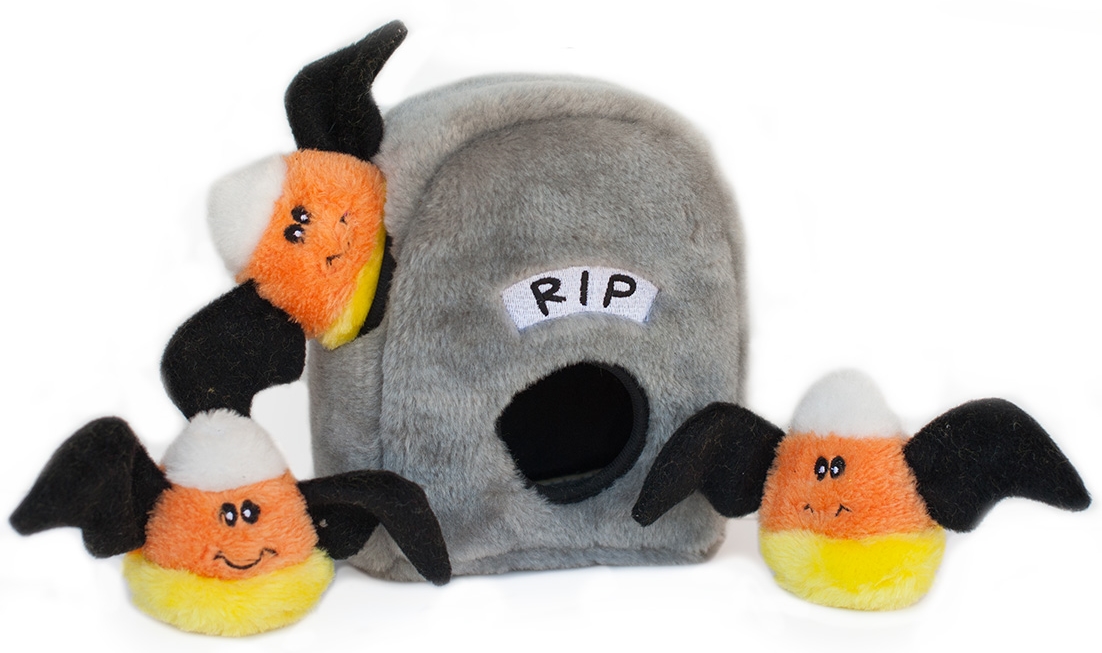 ZippyPaws Halloween Colossal Buddie – Frankenstein
Frankenstein may have a reputation of a scary, giant monster, but this ZippyPaws-exclusive Frankenstein Colossal Buddie is squeaky, friendly, and delightful! This dog toy features a supersized squeaker that produces loud, enticing sounds that dogs love.
Pet Halloween Costumes
Want to dress up your dog or cat for Halloween? We have a variety of pet costumes that you can choose from! Our dog costume collection consists of superhero apparel if you want to show off your awesome, world-saving canine; other animal and critters like dinosaurs and bumblebees to give your pet a single day out of the year to be any other creature they want to be; and even classics like a devil costume! In our cat costume and accessories collection, you can find a wide range of bow ties and more to doll up your kitty and make them look extra dapper or disguise them in a scary Halloween costume.
Treat-Dispensing Pet Toys
From puzzle games to wobbly treat toys, treat-dispensing pet toys are fantastic to use to challenge your furry friend's mind and keep them occupied for hours! This is also a perfect way to give your animal companion treats that won't upset their stomach while you hand out Halloween candy to your visitors. Here are some toys we love that we're sure your pet will, too:
Cat Scratch Pad Centre
The ultimate treat-hoarding + scratching board for your kitty! If your cat has a habit of scratching when they get anxious, the Cat Scratch Pad Centre is an effective and multipurpose scratch board that features a variety of holes and layers that your feisty feline will love to get their claws into. The holes let you put toys or treats inside to encourage your cat to use the toy instead of other objects or surfaces for scratching.
KONG Dental Sticks For Dogs
Does your dog tend to chew on your belongings when they're stressed? Get them chewing on the KONG Dental Sticks instead! These chewable, yet sturdy, dental sticks allow you to put treat pastes like the KONG Easy Treat Stuffing Bacon & Cheese Paste inside the outer grooves and the hollow center of the toy. These treat-holding chew toys are great for dogs with chewing needs or habits when they get anxious.
Ca-Tumbler Cat Treat & Food Dispenser
Just like the Kong for dogs, the Kitty KONG or the Ca-Tumbler Wobbler Cat Treat & Food Dispenser dispense food and treats to keep cats busy! (Psst! The Ca-Tumbler Wobbler comes in a pumpkin shape – perfect for Halloween!)
Nina Ottosson Dog Tornado Treat Toy
Nina Ottosson treat-dispensing puzzles and games for pets are great for developing cognitive abilities and making your pet smarter, and the Tornado is an interactive toy that hides treats and challenges your dog to figure out how to get to them. You can find many of these puzzle-type toys here at Lucky Pet Supplies. For cats, you can try the Nina Ottosson MixMax A Easy Interactive Cat Toy.
Find more interactive, treat-dispensing pet toys and games in our cats collection or dogs collection!
4. Pet-proof your Halloween decorations.
Whether you're going light with the Halloween decorations this year or you're creating your own haunted wonderland and decking out your home with Halloween decor, it's important that you ensure your pet will not be in danger if they interact with the decorations in any way; e.g., chewing on inflatable decorations, walking on certain decorations, getting tangled in wires, etc. Anything electric or harmful to your pet should be placed out of reach to reduce the risk of detrimental or fatal injuries. If you have jack-o'-lanterns on display and are using candles to light up the pumpkins, prevent your pet from chewing on the pumpkins or knocking them over.
5. Have your pet I.D.-ready.
Your pet should have a collar and I.D. tag on at all times, especially on Halloween night. In case your night becomes chaotic with all the trick-or-treaters or you're having friends over for a Halloween party, and your pet somehow manages to master the art of escape in a single night, their I.D. tag will make them more likely to be found by someone, and you'll be contacted immediately.
We hope these tips help you prepare yourself for Halloween with your pet! Even if it's for just one day, it's important to set up precautions to ensure your companion's safety.
Have a safe and fang-tastic Halloween!
---
Leave a comment