Perfect Pet Gifts For The "Howl-iday"
Date Posted:16 December 2017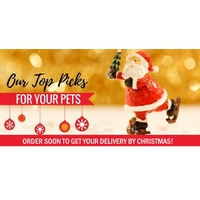 The holidays are here, and it's time to shop for everyone special to you, including the furry ones!
If you're looking for some last minute stocking fillers, we've put together our Top gifts for pets (even some may not fit in a stocking!)
ZippyPaws Christmas Crinkle Squeaky Dog Toy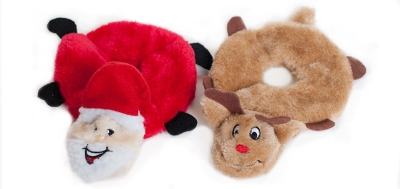 It crinkles. It squeaks. And it's perfect for the holidays! The ZippyPaws Holiday Crinkle Toy is a fun entertainment system for your furry friend to enjoy and features various textures and noise makers that are irresistible to dogs. If your canine loves to bite and chew their toys, this ZippyPaws dog toy is made with durable fabric and strong stitching to ensure that the toy stays intact, even through rough play and biting. The long, floppy limbs of the toy entice your pet with the unpredictable movement and tugging play.
SmartCat Ultimate Scratching Post
Stop your feisty feline from scratching your home items to shreds with the SmartCat Ultimate Scratching Post! Whether your kitty has anxiety or simply wants to claim their territory, scratching is a natural instinct for cats. Now you can help ease your pet's scratching needs with this efficiently designed scratching post, featuring quality and durable woven sisal material for long-lasting use. Give your kitty plenty of activity throughout the day and encourage them to stay active instead of cat nap with this SmartCat Scratching Post!
Outward Hound Christmas Hide-A-Squirrel Toy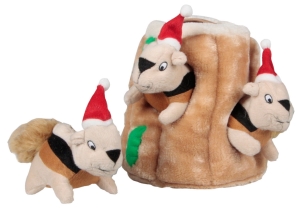 Indulge your dog this holiday season with the Outward Hound Holiday Hide-A-Squirrel Burrow Toy! Dogs love to burrow and dig, so satisfy their natural instinct and even help them relieve stress and anxiety with this entertaining hide-and-seek toy. This Outward Hound Christmas edition features three squeaky squirrels with Santa hats and a tree-shaped ZippyPaws Burrow. Hide the squirrels in the Burrow, give the toys a squeeze to make them squeak, and give it to your pet to play with and remove the squirrels. The Hide-A-Squirrel Holiday Burrow toy is great as a gift for your dog to enjoy throughout the holidays and beyond.
PLAY Holiday Cheerful Candy Canes Toy Set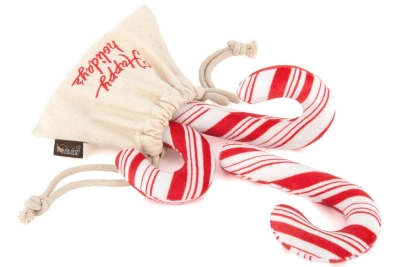 Want a toy set you can share among multiple pets? Get the PLAY Cheerful Candy Canes! This set of plush and squeaky candy-cane-shaped dog toys comes with a "Happy Holidays" drawstring bag to keep the candy canes organized and in one place.
Frolicat Duo Interactive Pet Laser Toy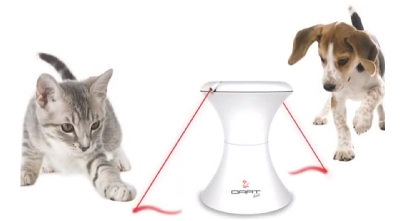 Perfect for cats who love chasing laser lights, the Frolicat Duo is an innovative and high-tech toy that entertains your cat for hours with its automatic laser-pointing mechanism. The top disc rotates and moves the two lasers around while they move in unpredictable patterns and speeds for more variation in playtime fun. Even dogs will enjoy this unique and high-tech toy! You can also check out the Cat Senses Speed Circuit for another light-up toy that we know your cat will enjoy.
Hamish McBeth Christmas Stocking
If you're planning to spoil your kitty this holiday season, get the Hamish McBeth Cat Holiday Stocking for all the treats and toys you will be giving your cat this Christmas! This stocking feature a quirky and primitive holiday design and can be used every year for your cat(s). Stuff the stocking to the brim with our cat treats or cat toys!
Puppia Checked Santa Christmas Scarf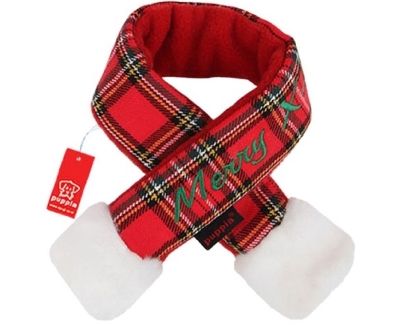 Keep your furry friend warm this winter with the Puppia Santa Scarf! Designed with a festive pattern and colour scheme, this scarf makes a holiday-esque accessory for your pet for holiday photos, events, and more. You can find more pet scarfs and other accessories in our Christmas Shop!

Cats love to rub their head and necks on everything in their environment, and they also love indulging in the affectionate petting and scratching you give them. But, when you're not at home, your feline can still get their fix with the Catit Senses Massage Centre! This one-of-a-kind cat massage station features an accupressure mat around the station to massage your pet's paws and soft bristles that stroke and scratch your kitty in the right places. It's an excellent "cat"traption to get for your kitty!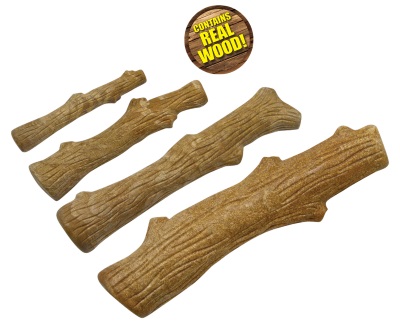 Does your dog search for sticks to chew on when they're outside? It's time to replace those potentially dangerous sticks with the safer PetStages Dogwood Chew Stick! This chew toy is specifically designed to mimic the au naturale sticks your pet finds outdoors, but it's made to be safe since it won't have splinters to poke or injure your canine. You can have this indestructible chew toy for your pet for a long-lasting stick they will love. While outdoors, throw it for catching and fetching games with your pooch! When your dog is indoors, they can use the stick to work out their jaw and chew on it as much as they want without the safety hazards!.
If you have multiple pets or you want to help control your pet's weight and prevent them from eating too much, the high-tech Surefeed Pet Feeder is a must-have for pet parents. The microchip in the feeder recognises your pet and automatically opens the feeder for them so they can eat; the feeder won't open to any other pets, which is great for pet owners with more than one pet. If you're looking for a way to help your overweight or obese pet shed some pounds, then you can portion-control the food for every meal before your pet eats. Not a pet parent? If you know a family member or friend who needs an effective way to control their pet's diet, recommend the Surefeed Microchip Pet Feeder to them or surprise them with it as a gift this holiday! We're sure the pets will thank you for helping them stay healthy and away from other pets' food.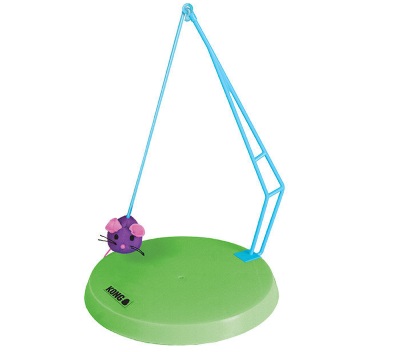 Now you can go about your day and feel better knowing that your cat has a playtime friend with the KONG Cat Sway 'N Play cat toy! This hands-free cat toy features a swaying mice that attracts your curious kitty's attention and encourages them to swat and bat the mice to create even more unpredictable and exciting movements for extra fun.
ZippyPaws Loopy Crinkle Dog Toy
Designed with a circular shape, the ZippyPaws Loopy Crinkle Toy is stuffed with squeakers and is easy to hold, chew, bite, and play with. You can toss or throw the toy so that your pet can catch it and be rewarded with a mighty "squeak!" every time. The ZippyPaws Loopy Crinkle Toy comes in limited-edition holiday characters for your Christmas shopping convenience.
Ideal for the cat in your life that loves to sit in front of the window and stare outside for hours, the K&H Window Mount Cat Hammock gives your kitty the luxury of napping in front of their favourite view. The hammock mounts to the windows with strong suction cups and can support most standard-sized cats.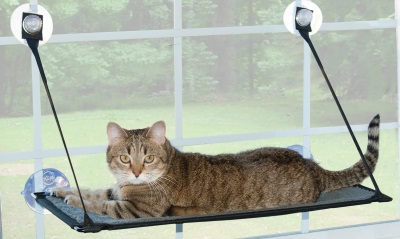 Pioneer Rain Drop Stainless Steel Pet Fountain in Rose Gold
Upgrade your pet's water bowl to this stunning pet fountain! Pet water fountains are fantastic investments because they provide an automatic, consistently clean water source for your furry friend; you don't have to worry about filling your pet's water bowl again with a pet fountain! Plus, the moving water attracts your pet and entices them to drink from the bowl (and enjoy the view!).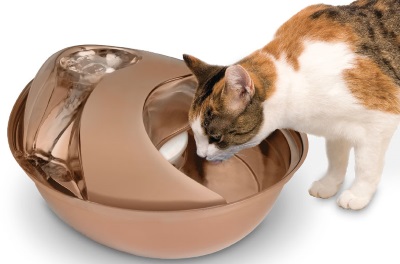 Nina Ottosson Dog Miracle Puzzle
Nina Ottosson is known for the intricate and mentally challenging pet puzzles that help develop your best friend's cognitive abilities and keeps their mind sharp. The Dog Miracle Puzzle is an intermediate-level puzzle game where you place your canine's favourite treats underneath the covers and let your dog figure out how to get to them. This interactive puzzle game is sure to keep your pooch occupied for hours! Be sure to check out our other puzzle games available here at Lucky Pets.
Trouble & Trix Rainbow Tunnel For Cats
Give your kitty their own miniature obstacle course with this rainbow tunnel of fun! This colourful tunnel makes playtime more exciting and satisfying for your feline friend, and the ball at the end of the tunnel lets them swat and bat it all they want, which is a great reward for reaching the other side of the tunnel. You can leave treats and your cat's other toys inside, too, to create a small entertainment area for your kitty.
GiGwi Pet Droid Feather Spinner
Automate playtime for your cat with this feather spinner! This automated cat toy boasts a new way for your pet to entertain themselves throughout the day. Programmed with sensors that activate the feather spinner when your cat is near the toy, the Pet Droid will capture your kitty's attention every time they pass and will keep them occupied all day long!
We hope you have a wonderful holiday with your animal companions! Experience the joy of getting your pets toys that they'll find amusing and entertaining by wrapping up one of our recommended products or stuff your pet's stocking with miniature toys and treats from our online store.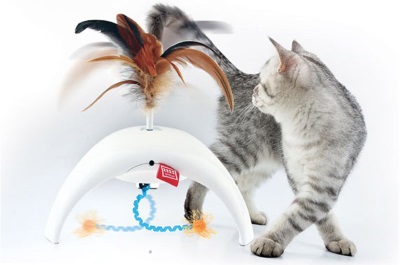 Merry Christmas From Lucky Pet!
---
Leave a comment