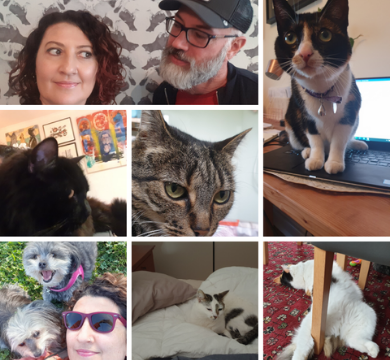 My (very personal) thoughts about Coronavirus
by Lucky Pet ■ Updated: May 5, 2020
I've been avoiding the frenzy of the last few weeks, all the talk, the shaming of toilet paper hoarders. But today, as I talked to the staff in a small cafe at the South Melbourne Market, it really hit me. This virus is affecting us in more more ways than just bed rest and sniffles. It's also hitting businesses hard.
Yet what are we supposed to do? Is everyone on the foot-tapping bandwagon yet? Do we just stay home and avoid contact altogether?
Honestly, I have no idea. I just know that in these uncertain times, we need to support one another. Things look pretty dire - events have been cancelled, borders closed, employees are being asked to work from home (if they have that luxury), and there is the potential for school and office closures and who knows what else.
Jeff and I have finally decided to be cautious. We're not freaking out or panicking, but we've decided to work from home and postpone meetings for a few weeks. It feels weird to do this. This is not how we roll, normally. We're not "hand sanitiser" sorts of people. But these are not normal times, I guess.
So I just want to say that we're here for you, and there are a lot of businesses like us out there who are here for you too - stocking up shelves late at night, making sure we don't run out of essentials like food and litter.
It's times like these that we ask you to support your independent stores - whether bricks and mortar or online. They are the ones who need it more than the big shops like Coles, Woolies, Pet Stock or even Pet Circle- these guys will recover - they are owned by large corporations who have massive marketing budgets. I don't begrudge them; it's business. But right now it's the independents we need to worry about. They're the ones who may not come out of this. They're the ones whose owner don't take salaries, but still need to pay salaries, and mortgages. I worry for them.
I thought I'd take this time to tell you a little about us us. Lucky Pet is an independent pet store run by me, Jo, and my husband, Jeff. We are located in the west of Melbourne, in Sunshine, and we recently relocated our warehouse to Sydney, which is central for easy deliveries along the East Coast of the country. We do our best to support local manufacturers as much as possible, and independent local brands, who are all working to making things great for you, our wonderful fans and customers, and your beautiful cats and dogs. So please know that the money you spend in our business goes back into the local community so we can keep supporting local brands and distributors - no shareholders, no corporations.
Thank you for being part of our community.