Fish4Dogs
Add more naturally sourced omega 3 fatty acids to your pet's diet with Fish4Dogs grain-free fish treats for dogs. Made from small fish like mackerel, Fish4Dogs offers single-ingredient dried fish jerky and treats for canines to enjoy. These dried fish treats double as dental chews for dogs to help keep your dog's teeth clean! No fillers, artificial colours/flavours, preservatives or added sugar.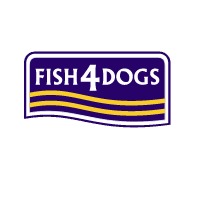 This category is empty! Please try another category or use our search function to find what you are looking for. If you require further assistance please contact us.
Make healthier treat choices for your dog with Fish4Dogs delicious and nutritious dried fish treats. From 100% fish skins to whole small fish, Fish4Dogs award-winning Sea Jerky treats are made with various parts of small fish, which are known for their rich essential fatty acids. It's natural fish oil for dogs (that's not in heavy, concentrated doses)! These healthy dog treats contain omega fatty acids that help hydrate the skin and relieve common skin conditions like dry, itchy skin; keep your dog's fur coat shiny and conditioned; provide joint health support for better mobility; reduce inflammation on skin and in joints; repair joint cartilage, and improve brain and cardiac health. Low-calorie and high in protein, Sea Jerky is a revolutionary dog treat that does more than give your canine something delicious to munch on. Fish treats are also great alternatives to pork, chicken, lamb, kangaroo, beef, and other meats that your dog may be allergic to.