Whimzees
Make taking care of your dog's dental hygiene fun and delicious with the Whimzees dental chews for dogs! From fun critters like gators and hedgehogs to the classic toothbrush, Whimzees comes in various shapes to help clean your dog's teeth. Available in single or multiple packs for small to large dogs. Free of gluten, grain, and GMOs!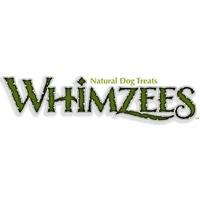 This category is empty! Please try another category or use our search function to find what you are looking for. If you require further assistance please contact us.
With Whimzees dental chew treats for dogs, dental care is not only entertaining and mentally stimulating for your pet, but it's also paw-licking goodness! Whimzees are healthy, all-natural vegetarian dog treats that are specifically made to help improve your dog's dental hygiene. For example, the Veggie Dental Toothbrush features "bristles" and ridges that help clean your pet's teeth and tongue to break down plaque and tartar build-up and eliminates bacteria that causes bad breath. These healthy chews for dogs are great to use as entertainment for your pet as well.