Royal Canin Prescription Pediatric Growth Mist Cat Food x 12 Pouches
Pediatric Growth is a nutritionally balanced wet diet for kittens from 4 months to neutering (or until 12 months).
This diet is specifically designed to promote healthy digestion, is easily digested and includes a patented antioxidant complex to stimulate antibody production.
A kitten goes through two stages of growth and needs a higher level of certain nutrients during each stage to both maintain their everyday functions and support the healthy growth of bones and muscles. Pediatric Growth is complete nutrition developed to address a kitten's second stage of development: Growth.
Kibble Size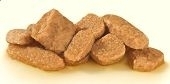 By ordering this food online, you acknowledge that your vet has advised you that this is the correct food for your pet's needs.
Size: 12 pouchs x 100g
COMPOSITION:
Chicken and pig meats, rice flour, wheat gluten, cellulose, calcium caseinate, fish oil, minerals (including chelated minerals), yeast extract (source of Mannan-Oligo-Saccharides), taurine, L-carnitine, marigold meal (source of lutein), vitamins.ADDITIVES (per kg): Nutritional additives: Vitamin D3: 250 IU, E1 (Iron): 1.4 mg, E5 (Manganese): 0.44 mg, E6 (Zinc): 4.4 mg - Technological additives: Pentasodium triphosphate: 1.2 g.ANALYTICAL CONSTITUENTS: Protein: 12% - Fat content: 4% - Crude ash: 1.5% - Crude fibres: 0.6% - Moisture: 79%.
Recommended daily quantities (g/day):
Water should be available at all times
| | | | | | | | | |
| --- | --- | --- | --- | --- | --- | --- | --- | --- |
| | KITTEN | | | | WET FEEDING | | MIXED FEEDING | |
| Age | Weight of | KCAL / Day | | Number of meal / day | Pouch / Day | | g dry / Day complementary to one pouch | |
| (monthes) | Kitten (kg) | Target weight adult 3 kg | Target weight adult 5 kg | | Target weight adult 3 kg | Target weight adult 5 kg | Target weight adult 3 kg | Target weight adult 5 kg |
| 3 wk | 0.25 - 0.4 | 86 | 118 | | | | | |
| 4 wk | 0.35 - 0.6 | 106 | 147 | | | | | |
| 5 wk | 0.48 - 0.7 | 128 | 166 | 5 | | | | |
| 1,5 | 0.6 - 0.9 | 145 | 192 | 4 - 5 | 2 | 2 1/2 | 15 | 30 |
| 2 | 0.8 - 1.2 | 169 | 225 | 3 - 4 | 2 | 3 | 20 | 35 |
| 3 | 1.4 - 2.1 | 215 | 290 | 3 | 3 | 3 1/2 | 35 | 50 |
| 4 | 1.8 - 2.75 | 230 | 320 | 2 - 3 | 3 | 4 | 35 | 60 |
| 5 | 2.1 - 3 | 235 | 330 | 3 - 3 | 3 | 4 1/2 | 40 | 60 |
| 6 | 2.4 - 3.9 | 240 | 340 | 4 - 3 | 3 | 4 1/2 | 40 | 65 |
| 7 | 1.8 - 2.78 | 240 | 340 | 5 - 3 | 3 | 4 1/2 | 40 | 65 |
| 8 | 1.8 - 2.79 | 240 | 340 | 6 - 3 | 3 | 4 1/2 | 40 | 65 |
| 9 | 2.9 - 5 | 240 | 335 | 7 - 3 | 3 | 4 1/2 | 40 | 65 |
| 10 | 2.9 - 5 | 235 | 330 | 8 - 3 | 3 | 4 1/2 | 40 | 60 |
| 11 | 2.9 - 5 | 235 | 330 | 9 - 3 | 3 | 4 1/2 | 40 | 60 |
| 12 | 2.9 - 5 | 235 | 330 | 10 - 3 | 3 | 4 1/2 | 40 | 60 |
| | |
| --- | --- |
| Barcode # | 9003579310922 |
| Brand | Royal Canin Prescription |