Give your pet the nutrition they need for optimal health with Hemp Seed & Flax Seed Oil for Pets.
This Hemp Seed and Flax Seed Oil is 100% raw and targets various areas of your pet's health to improve their overall well-being. Hemp seed oil is packed with omega essential fatty acids (3, 6, and 9!) and has a better ratio of omega-3 and omega-6 (3:1) compared to fish oil. It also contains all 20 amino acids, important vitamins and minerals, and antioxidants. With the addition of flax seed, this nutritious blend of healthy, plant-based oils gets a boost of omega-3 fatty acids and a-linoleic acid, which isn't present in fish oil.
The nutrients found in this oil blend can help strengthen your pet's immune system; make their skin healthier and even prevent common skin conditions like acne and eczema; boost joint health and improve mobility; and transform your pet's mood and relieve their anxiety.
The Hemp Seed & Flax Oil for Pets is 100% raw and comes in a 100mL bottle with a dropper. This product is meant for ingestion only and not for external use.
Hemp Seed Oil vs. CBD vs. Cannabis with THC
Although hemp derives from the same DNA and plant species as cannabis, its main difference is the chemicals. Hemp does not have the psychoactive chemicals that marijuana has, which is why it won't make you high in any way. Cannabis is known for its drug-like effects due to the THC (tetrahydrocannabinol) present in marijuana, which is what gets people high. CBD, short for cannabidiol, is the medicinal portion of cannabis and won't affect you or your pet like THC will.
100% money back guarantee.
Features:
100% raw hemp seed and flax seed oil for pets that contains the legal limit of CBD and THC
Uniquely pressed with hemp seed hull to preserve nutrients and add fibre, protein, and amino acids
Dramatically and positively affects main areas like skin and fur coat health, mood, and joint health within weeks
Balanced omega 3, 6, and 9 fatty acids and has a better ratio of omega-3 and omega-6 (3:1) than fish oil
Flax adds an extra dose of omega-3 fatty acids and a-linolenic acid (ALA) that is not present in fish oil
Contains all 20 amino acids, antioxidants, vitamins (A, B, D, E) and minerals (phosphorus, iron, magnesium, calcium, iron, manganese, copper, potassium, etc.)
Can strengthen the immune system, improve mobility and joint health, relieve common signs and symptoms of irritated skin, and make the fur coat shinier and softer
Has increased levels of tryptophan to help boost serotonin (the "happy hormone") to uplift your pet's mood, relieve anxiety, sleep better, support memory and digestion functions, and manage behaviour
May prevent skin problems like dandruff, dry nose, rashes, and eczema
Use for a short period of time to help your pet reach optimal health
Size: 100mL
PLEASE NOTE: This product by The Cannabis Co. has been rebranded and repackaged.
Specifications
| | |
| --- | --- |
| Brand | CannaCo |
| SKU | FO100 |
| Barcode # | 705632682876 |
| Pet | Dog |
| Pet | Cat |
| Category | Health & Wellbeing |
| Country of Manufacture | Australia |
| Features | Supplement |
| Condition | Joint Care |
FAQs
Q: Is hemp the same as marijuana?
A: If you mean if the effects of hemp are the same as marijuana, the short answer is no. Hemp and marijuana are technically the same species of plant (even having the same DNA), but the main and most important difference is the chemicals in these plants and how they affect the body, which are vastly different. Hemp is basically cannabis without the drug-like effects and contains no psychoactive chemicals. Also, hemp is legal in Australia while marijuana is currently illegal unless you need it for medical reasons and have a doctor's prescription.
Q: Will it make my pet high?
A: No, hemp seed oil does not make your pet high. Generally speaking, there is a naturally occurring chemical in hemp that can make both humans and animals feel "high," and it's called THC. However, the Canna Co.'s hemp seed oils for pets contain less than 0.00001% THC. This means that even if your pet drank gallons of it, they would still remain sober! But you'll see the positive effects that hemp has on their mood, so you may actually think they're "high"! (but they're chemically not!)
Q: Can I apply it externally to skin, fur and coat, or should it only be added to food?
A: For the Hemp Seed & Flax Oil, you can only use it internally; the Hemp Seed Oil for Pets, however, can be used externally and internally.
Q: I'm not sure whether I should purchase Hemp Seed Oil For Pets or Hemp Seed & Flax Oil For Pets – which one is better?
A: That depends on any current problems your pet is facing. Hemp Seed Oil for Pets is a daily supplement that can be used internally or externally while the Hemp Seed & Flax Oil for Pets is best used for a temporary boost to help your pet reach full health again. The Hemp Seed & Flax Oil Blend is not processed the same as the Hemp Seed Oil, and it's not as smooth or delicate, so it can't be used for external application. This is due to the addition of hemp seed hull in the Hemp Seed & Flax Oil formula. There is, however, a higher nutritional value in this oil blend compared to the 100% Raw Hemp Seed Oil for Pets. We recommend Hemp Seed Oil For Pets for ongoing daily use, and Flax Seed & Hemp Oil as a short term boost (4-6 weeks) to get your pet's health back up to optimum levels.
Q: Is it suitable for all animals?
A: The Canna Co. Hemp Seed & Flax Seed OilFor Pets is suitable for dogs, cats, horses, birds, guinea pigs, rabbits, hens, chickens, cattle, pigs, goats, sheep, donkeys and even ponies.
Nutritional Information: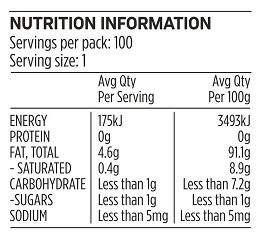 How to Use:
Use once daily. Add directly to food or in mouth.
- Small animals (under 10kg) = 1/2 dropper.
- Medium animals (10-25kg) = 1 dropper.
- Large animals (25kg+) = 2 droppers.
You Might Also Like
Other People Also Purchased