Royal Canin Prescription
Established in 1968, Royal Canin Prescription is a health pet food provider for cats and dogs that formulates diet-specific wet and dry food choices that are tailored to your pet's needs. From urinary care to dental health, Royal Canin provides a variety of prescription pet food to improve your pet's overall health and wellbeing.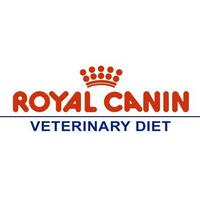 Give your pet nutrition they deserve with Royal Canin Prescription wet and dry pet food specifically designed to help cats and dogs with common conditions and ailments. For example, the Urinary Care S/O Dry Cat Food is a formula that can assist with cats with UTIs or poor urinary functioning. For dogs, the Royal Canin Gastro Intestinal Low Fat Dry Dog Food is a low-fat formula for canines that require a reduced fat diet and promotes healthier digestion and overall gut functioning. No matter what lifestyle or conditions your cat or dog has, Royal Canin can support their health with these carefully crafted blends of wholesome and nutritious ingredients in each formula.