Pidan
As one of the most advanced and aesthetic cat product brands around, Pidan creates elegantly designed modern cat home and lifestyle items that help heighten the quality of your cat's life. Known for their award-winning Igloo Cat Litter, Pidan also presents a collection full of mind-stimulating cat toys and cat beds.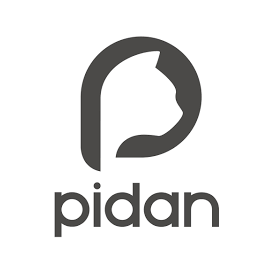 Enhance your cat's life with Pidan's beautiful creations. One of the most famous Pidan cat products is the Igloo Cat Litter Box, an enclosed litter box that allows your kitty complete privacy as they do their business. The sleek igloo dome shape gives your cat plenty of room to move around in, and the sieve-like passageway is a litter-catcher that helps reduce tracking and removes litter that stuck on to your cat's paws. Pidan also has high-quality bentonite clay clumping cat litter that you can use along with the Igloo. For an all-natural cat litter option, the Flushable and Biodegradable Tofu Clumping Cat Litter is an eco-friendly alternative to your traditional litter.
Make mealtimes more comfortable for your cat by using the Raised Glass Cat Food Bowl, which can help reduce acid reflux, bloating, and discomfort while eating from a bowl set on the floor. If your pet is feeling antsy after meals, why not treat them to fun and whimsically designed cardboard cat scratchers like the Whale Cat Scratcher? Cat scratchers are great to have at home to help your kitty release their scratching urges. Other cat toys Pidan carries include wobbling feather teasers like the Roly Poly, a pet toy that encourages independent play and indulges your kitty's hunt and chase instincts. Pidan also has traditional cat teaser wands so that you can bond with your pet and engage them in active playtime.
Find more high-end cat products from Pidan here at Lucky Pet!