Natural Animal Solutions
Keep your pet happy and healthy with natural nutritional supplements, pet shampoo and conditioner, and more from Natural Animal Solutions. From omega fatty acid oil supplements for dogs to anti-itch skin treatments for pets, this pet health brand produces effective and clinically proven formulas to help pets live with optimal health and vitality.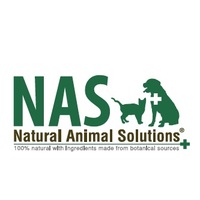 Give your pet's diet a makeover with Natural Animal Solutions pet supplements, oils, and more that boost nutrition in pet food. Try out the Organic Seaweed Powder for extra iodine and other nutrients like magnesium and phosphorus; it's easy to mix into wet or dry dog food or even bone broth! Natural Animal Solutions also cares for puppies and kittens and carries supplements like the Goat Milk Powder to help little furbabies grow into healthy and strong adults.
To increase your pet's intake of essential fatty acids, add the once-a-day Omega 3, 6, and 9 Oil for cats, dogs, and horses to support joint and heart health and improve your pet's skin condition and fur coat. The Skin Pack gives you an all-in-one kit to help relieve your pet's dry, itchy, and inflamed skin so that only soft, supple, and healthy skin is revealed!
If your cat or dog suffers from separation anxiety or has trouble staying calm during certain events (e.g., vet visits, car trips, new home), Natural Animal Solutions Natural Animal Solutions Calm Tablets and the TravelEze Drops are great to have on hand when you need to keep your pet calm.
Natural Animal Solutions gives pet parents pet-safe healthcare essentials, so be sure to add them to your own pet care toolbox!