Sure Petcare
Transform your space into a smart pet home with Sure Petcare's original and ingenious pet home products! The SureFlap Microchip Pet Door and the SureFeed Microchip Pet Feeder are some of Sure Petcare's most popular high-tech pet equipment. Accessories for SureFlap and SureFeed are also available here at Lucky Pet.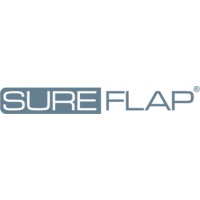 Automate your pet care with Sure Petcare's advanced pet microchip inventions! For an automatic, microchip-enabled pet door for cats and dogs, the SureFlap Microchip Pet Door is a smart automatic and lockable door that you can easily install in your home. This battery-powered door connects to a smartphone app where you can monitor your pet's behaviour and prevent outside animals from coming inside your home. You can set unlock and lock times so that you can keep your pet safe and reduce any chances of them running away at night! This is a multi-pet cat and dog door that can program multiple pet microchips.
If you have more than one pet at home, and have some that like to eat out of other pets' food bowls, the SureFeed Microchip Pet Feeder is a digital pet food station that is only accessible to one pet. This revolutionary pet feeder station requires a microchip or collar tag to activate, which ensures that other animals can't go after one pet's food, especially if they're on a special diet or have prescription food. You can also customise the food bowl and mat of your SureFeed with different colours, which are sold separately here at Lucky Pet!
Discover a new way to take care of your cats and dogs with Sure Petcare's contemporary and high-tech pet products