PAW by Blackmores
Short for Pure Animal Wellbeing, PAW by Blackmores is a natural pet healthcare brand that offers a variety of skin care, pet shampoo and conditioner, nutritional supplements, and other pet treatments. Backed by the decades of experience and knowledge of a 3rd generation vet, Dr. Alister Webster, PAW brings pet-friendly solutions to help care for your furry friend.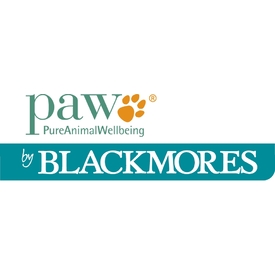 PAW by Blackmores makes pet care easy and safer for your animal companion. With a variety of pet shampoo and conditioner duo packs, such as the Replenishing Oatmeal Shampoo & Conditioner for Dogs and Cats, PAW presents a selection of soothing and cleansing options that are great for pets with sensitive skin or mild skin conditions (e.g., dry and itchy). If you need an antifungal and antibacterial pet shampoo, the MediDerm Medicated Shampoo for Dogs is a gentle and effective way to relieve irritated skin caused by skin infections. Does your dog have dry skin patches or a dry, cracked paws? Apply the Biobalm, a 100% organic concentrated moisturiser, to help heal skin and keep it hydrated.
PAW's pet supplements and multivitamins for cats and dogs give pet parents a way to increase the nutritional value of their pet's daily diet. For example, if your dog has osteoarthritis or needs extra joint health support, try the Osteocare Joint Health Chews for Dogs, which contain glucosamine and chondroitin. Wellness Vitality Multivitamin Kangaroo Chews are another healthy supplement for dogs that are made with Australian kangaroo meat for a tasty, yet nutritious, treat.
There's more where that came from, so browse our PAW by Blackmores collection and make your pet's quality of life better!