Teach your pooch to slow down at mealtime!
Designed in Denmark, Green is a revolutionary way to turn your dog's meal into a challenging game. Many dogs lack mental stimulation which can lead to boredom and unwanted behaviours such as inappropriate chewing or barking. By entertaining your dog with their own food allowance you can stimulate them mentally and help to remove these problems.
And now, Northmate introduces the Green Mini for smaller dogs and puppies.
Scatter the desired amount of food across the Green and watch your dog 'work' to push the food out between the many blades of grass. You can even use wet food in the Green!

Another important feature of Green is that it prolongs eating time, which is proven to significantly reduce the risk of vomiting, gagging, gas and belching and also decrease the risk of `bloat' a potentially fatal disease for dogs. This results in a happier and healthier dog.
After vigorous testing at Lucky Pet HQ by a 2-year-old Labrador, a 1-year-old Terrier, and even a 2 year-old Pug, we can confirm that the Green Interactive Feeder:
Won't slide - has a rubberised base
Won't tip over - the green nodules are round and too smooth for even the smartest pooch
Prevents bloat - it took our test Lab 10 minutes to finish 100 grams of dry kibbles. Seriously - a Labrador, 10 minutes!
Green is made from hard plastic (without phthalates) and can therefore be used both indoors and out and is also completely safe to be cleaned in the dishwasher.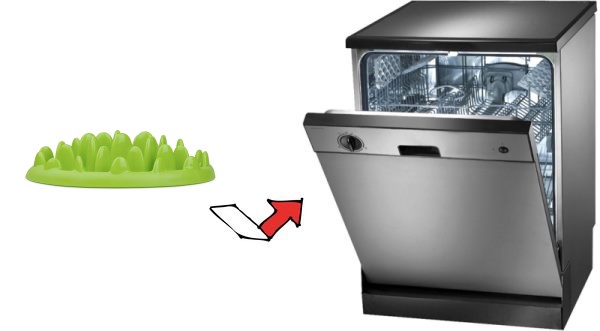 Features:
Recommended by the Bondi Vet himself, Doctor Chris Brown on Channel 10's The Living Room
Beautifully designed, modern interactive dog feeder.
Specially designed to slow down your pooch when eating.
Looks great in any home - styled to look like a patch of grass.
Easy to clean - Green is made of hard plastic (without phthalates) and can therefore be used outside and cleaned in the dishwasher.
Has an outer edge allowing wet food and approx. 1 cup of water.
Measurements: Mini - 29 x 22.5 x 7cm
Height of blades of grass: between 1.5 and 5.5 cm
GREEN mini consists of 32 blades of grass – all of them smoothly rounded.
Also available in the standard size measuring 40 x 29 cm and between 5 and 10 centimeters in height.
Specifications
| | |
| --- | --- |
| Brand | Northmate |
| SKU | NM2 |
| Barcode # | 5723998101072 |
| Pet | Dog |
| Category | Bowl |
| Features | Slow Bowl |
Other People Also Purchased