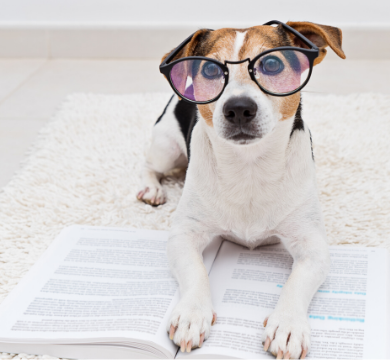 10 Ways to Create a Positive Environment for You and Your Dogs while Socially Distancing
by Lucky Pet ■ Updated: April 19, 2022
Busy Minds Make Happy Pets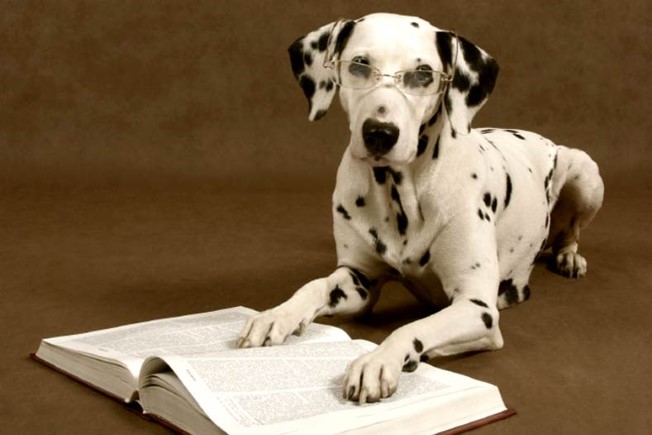 Like you, we believe that when we adopt a dog, our biggest job is to keep them happy and healthy. We are firm believers in positive reinforcement, and we know from first-hand experience that it encourages good manners, resulting in engaged, loyal dogs with a temperament that we should all aim for.
Reinforcing good behaviour is both good for you and good for your dog, creating trust and structure. It also helps to motivate dogs to do the right thing when you ask, making them eager to learn, and more easily trainable. The results of positive reinforcement and a well behaved dog are more permanent and help to reduce the tendency toward unwanted behaviour, and keeps them safe!
We are self-isolating right now, and with no cafes open for visits, our dogs are less engaged with other people and the outside world than in more normal times. We have put together some tips to make self-isolation less daunting when you have dogs to entertain.
Continue to exercise your dog's mind and body and you'll prevent and reduce problem behaviour and weight issues, and you'll strengthen your bond while relieving boredom (for them and for you).
Stay safe during these uncertain times. Social distancing doesn't have to be isolating.
Here are 10 Tips for Nourishing your mind, and your dog's.
1. Create a predictable Routine
Just like kids, dogs love routine. Create routines around feeding, playing and chilling. Provide structured play in the evening so that when it's time for bed, they're ready, too. Walk them at the same time each day if you can– morning, afternoon or evenings – work it into your schedule but keep it consistent. Pick a time that will give you a chance to be truly present with them – no phones, just play and hang out!
Whether you feed your dog once, twice or multiple times a day, try to do it at roughly the same time so they know what to expect. If you're unable to be home at a planned meal time, grab an automatic feeder that you can program to open at set times.
2. Provide Off Leash Play in a Safe Environment
If you're in a city, you're probably surrounded by lots of off-leash dog parks. If you don't have a designated off leash park, look for fenced-in areas or grab a super long leash, like a Black Dog 11 meter Tracking Leash. A long leash or an off leash park gives dogs the freedom to move and freely explore. Long leashes come in 3, 5 and even 11 meter lengths and they allow you to let your dog roam safely. You don't always have to hold onto the handle – it's easier to run after and grab a long leash than a small dog running!

COVID-19 UPDATE
We can still walk our dogs! Even in countries where there are extreme lockdown measures, people are still allowed to walk their dogs. Please exercise caution. Don't touch other dogs. Walk alone or with a family member you are self-isolating with.
3. Rotate your Dog's Toys and Chews
If you are anything like me, then your dog has more than one toy box, and your house probably resembles a creche, with toys strewn everywhere. Remember how your dog reacts when you bring home a new toy? You can create that regularly by rotaing their toys.
Simply keep 3 or 4 toys out at one time, then take one or two away and introduce new ones. Do this regularly and they won't even
notice that you're giving them the same toys, just rotating them (tricky you!)
4. Introduce Puzzle Toys
Whether you're into Sudoku, crosswords or board games, you like to be entertained, and so do your dogs. And they like nothing more than to play with you!
Your dog loves you, and the more time they have hanging out with you, the better. Interactive puzzle games that you have to play together encourage a healthy bond. If you have kids, show them how to use puzzle toys with your dog and they'll all be entertained – no screen in sight! Engage a dog's brain while treating them with… well… treats… and everyone's a winner!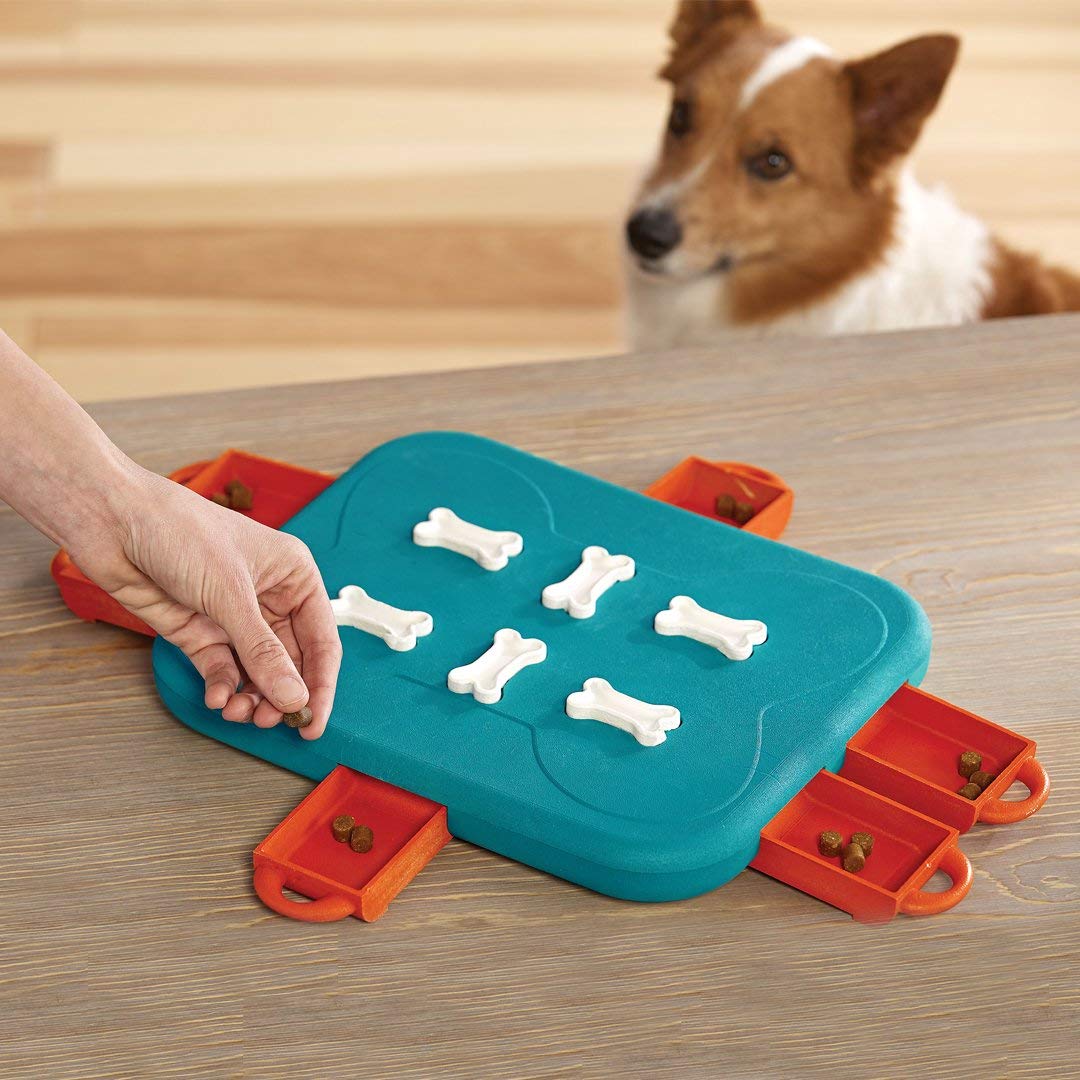 Why not make your own treat dispenser?! This is a spin on the popular puzzle toys that you can make with things you probably have at home already. You will need:
Tennis Ball
Sharp Knife
Treats
Simply cut a hole along the "seam" of the tennis ball to create a "smile". Add treats and give to your dog. Your dog will roll the ball around while trying to work out how to get the treats out!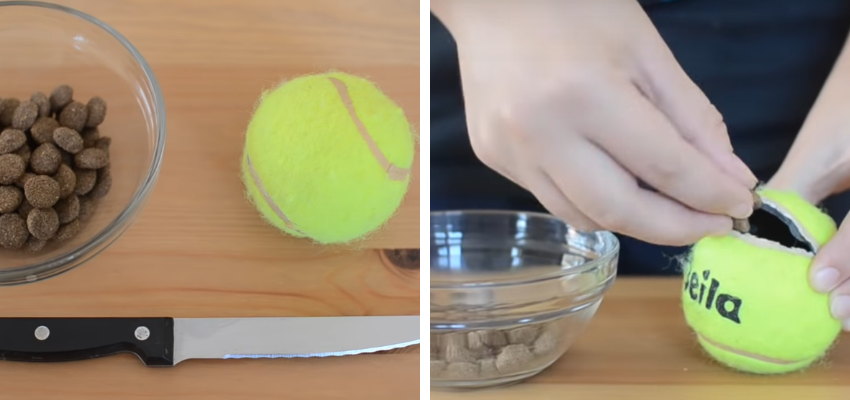 Water Bottle Cruncher and Treat Dispenser
This is another super easy treat dispenser. Plus dogs LOVE the sound of a crunching water bottle.
All you need for this is:
Water Bottle – choose a size that's right for your dog
Sharp Knife or scissors
Treats
Cut a few holes around the bottle. Add treats and give to your dog. Your dog will crunch and roll the bottle to release the treats!
Check out the ones I made!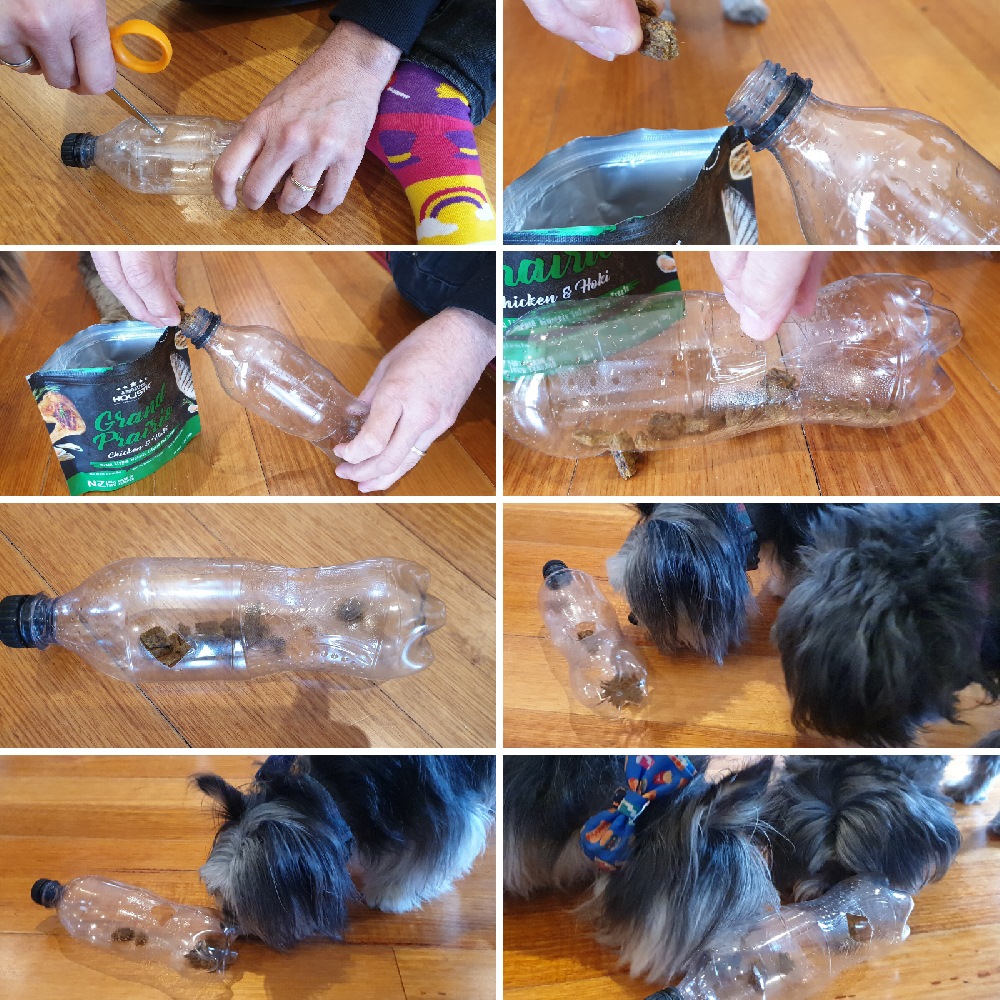 5. Consider Getting a Friend!
There's never been a better time to foster a new pet. If you think your pup might be lonely, then they probably are. Loneliness affects our dogs as much as it affects us. Think of all the fun your dog will have with a best friend by their side!
If you're not ready to commit to a second dog, consider fostering – not only will you provide company for your dog, but you will also be providing a loving home for a dog in need.
Fostering is also a wonderful way to check that your existing dog, family members, and other pets will get along with the new addition. Check out your local rescue as well as petrescue.com.au
If you are self-isolating, social distancing or working from home, you have plenty of time to spend with a new pet and lots of time to work on training them. Hop online and look into some virtual puppy school and training classes. Our friends over at From a Dog's View are about to start up classes via Zoom! You'll have fun and learn new skills safely!
6. Create a Backyard or Indoor Treasure Hunt
This is much easier than it sounds and is especially beneficial if you are going to be away for a few hours.
Hide some of your dog's favourite treats around the house before you leave. It will encourage your dog to explore and stay active while you're away.
You can also grab plastic "easter" eggs and fill them with treats before hiding them. One year, for Easter, we baked little meatballs and hid them in plastic eggs around the back yard. Not only was it a fun game for our girls, it gave us serious joy to watch! Try it.
7. Create a Snuffle Mat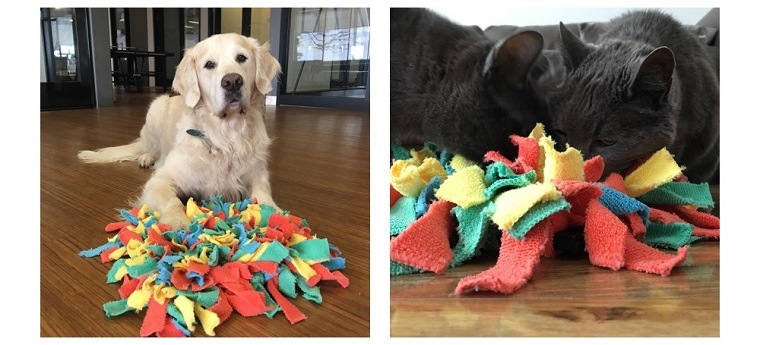 Can't go outside because the weather is a bit iffy? That's ok, try your hand at making a snuffle mat. They're super fun and easy to make with just a few simple items.
A snuffle mat is an easy to make homemade toy that provides your dog or cat with an indoor treasure hunt! It doubles as a slow feeder too.
Grab a rubber mat from your local hardware store – one of the ones with holes in it, like this. And use scrap pieces of fleecy fabric – you might have some old t-shirts, windcheters or tracksuit pants on hand. Anything with your scent will be even more enticing.
8. DIY Photo Shoot
Let's face it, if you have pets, you have hundreds, if not thousands, of happy snaps on your phone. Why not take it one step further and create some real keepsakes. You could splash out for a professional photographer, or you could hang a background and have some fun!
Grab a friend, who can help you wrangle everyone and everything. Throw some fabric over two chairs to create a background and use your dog's favourite treats or toy to help encourage perfect poses. And always keep photo sessions short, rewarding every perfect pose.

How about props? That trend of dogs with messages is so fun! You could buy a small chalkboard or handwrite messages on paper.
Outdoor photos are wonderful. If you can manage it, take the photoshoot outside. Remember the golden hour – before twilight – when natural light is at it's most perfect.
Play around with the location, choosing an area with soft lighting, and take plenty of photos! For every 20 or 30 photos, expect to get one keeper.
You could even use a selfie stick and get in on the action.
9. Try Out Agility Training - DIY a Course
Some dogs love training. They love learning tricks, they love to weave and jump. If you have a super active dog, especially a working breed, they will probably take to agility like herding sheep!
Agility training will helps strengthen the bond between you and your dog! It will reinforce basic training commands, improve your communication, and, ultimately, will help your dog's behaviour off the agility course.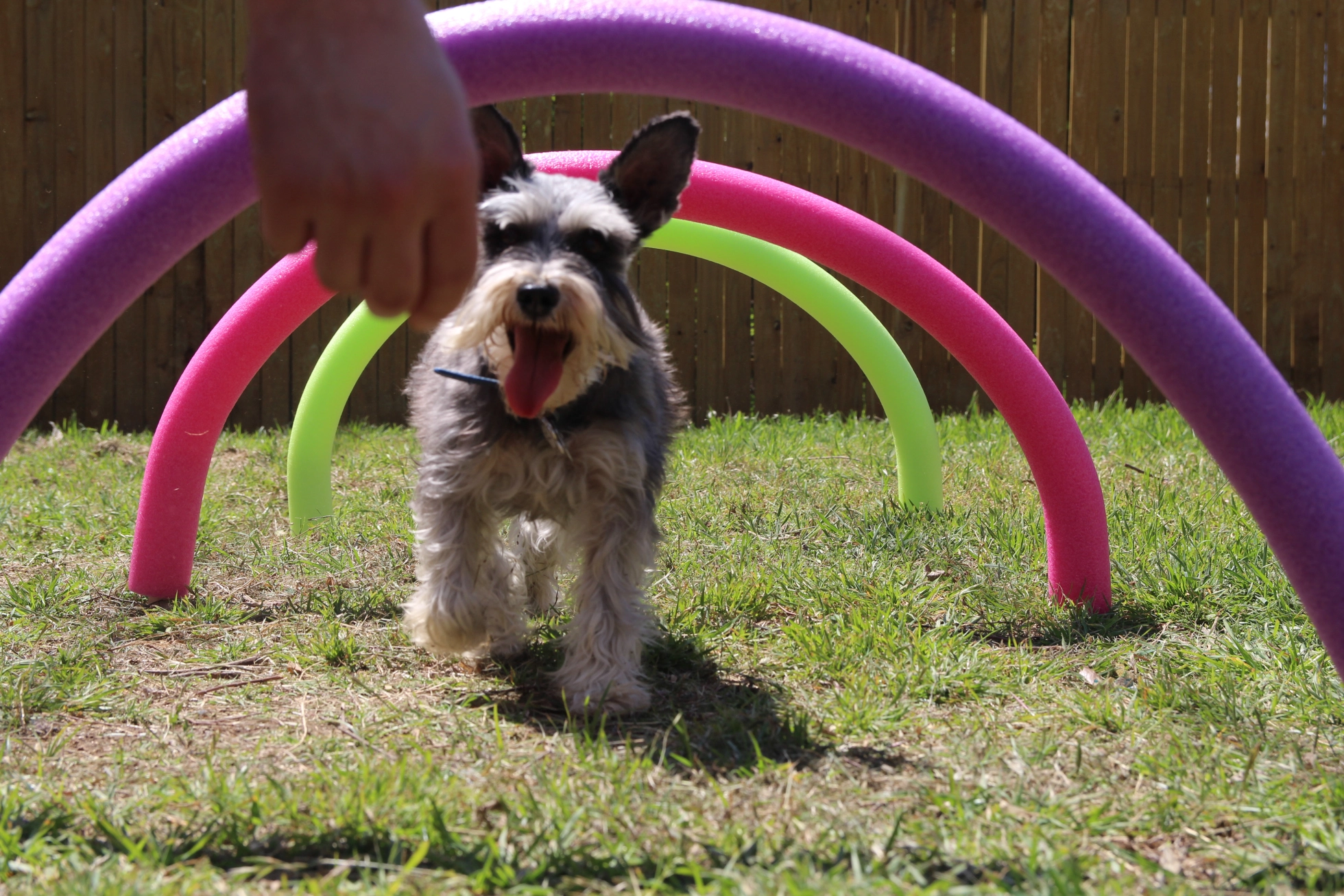 10. Bake Doggy Biscuits
Ingredients:
1 1/4 cups wholemeal flour
3 tbs oil (you can use coconut oil)
1/3 cup chicken or beef bone broth (I used this one)
1 carrot, finely shredded
1 small bunch of parsley, finely chopped (or just put it int he food processor if you're using one)
1 tsp Simply Seaweed (optional)
1 rasher of bacon - dry fried until crispy and finely chopped
Instructions:
•Preheat oven to 180 degrees
•Line a baking sheet with parchment paper or use a silicon cookie sheet
•Mix all ingredients in a bowl or a food processor. You may have to add a little more bone broth or flour to get a rollable consistency.
•Turn out onto lightly floured surface and roll to around 3mm thickness (the thickness of a 20 or 50
cent coin)
•Use cookie cutters to cut into desired shapes, or cut into squares and place on prepared sheet.
•Bake around 15-20 minutes until nice and golden.
Makes around 12 biscuits, depending on your size and shape.

To dry out the biscuits for longer shelf life, turn off the oven and keep the biscuits in the oven until it completely cools.
NOTE: *I use this bone both instead of commercial stock because it contains no salt, sugar or artificial ingredients.
*I don't give my dogs flour-based treats often. These are a "sometimes" treat.
PS. Instead of just "giving" your dog a bikkie, why not stuff a treat dispenser like a KONG. Give them a fun
challenge
P.S. Would you like a downloadable and printable version of this guide? You'll find more how-tos and photos to help you through the days.
Here are our top 10 Tips to Create a Positive Environment for You and Your Dogs while Socially Distancing.