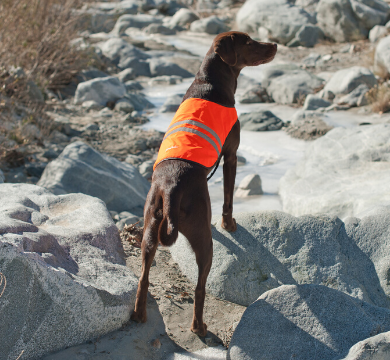 Dr Bruce Syme's Tips for Keeping Pets Cool
Temperatures are rising all over the country so I thought this was a good opportunity to share a timely reminder on the importance of helping our pets manage the heat.

While humans have sweat glands all over their bodies to help them regulate body temperature, pets don't sweat efficiently. Dogs' sweat glands are confined to their noses and paw pads so the only way they can self-regulate their temperature is through panting (evaporative cooling).

Cats have very few sweat glands (predominantly in their paw pads) and their fur also minimizes how efficiently sweating cools their body. And did you know that cats pant too, channeling heat from the hotter part of the body through the mucous membranes of the throat, tongue and mouth to effect cooling?


Signs your pet is overheating
Excessive panting, high body temperature, drooling, diarrhea, vomiting, increased heart rate, weakness, collapse and seizure are all signs your pet's body temperature is reaching dangerously high levels (hyperthermia).

The danger of heatstroke
Heatstroke can lead to organ failure, brain swelling, blood clotting and even death.

Tips for helping your pets keep their cool
Given that sweating is an inefficient cooling option for our pets, and the fact that they have higher average body temperatures than humans, it's vitally important to help them keep their cool in summer. Here are some tips for helping them beat the heat:

1. Make clean, cool, fresh water readily available.
2. Pick the coolest time of the day to exercise dogs – either early in the morning or late at night – and don't over-exercise them.
3. Take dogs for a swim or let them play in a sprinkler to help cool them.
4. Help cool a cat by applying a face washer of cool water to their groin, armpits and neck.
5. Don't walk dogs on hot pavements – it can burn their paw pads.
6. Freeze fresh raw meat or bone broth into ice blocks (use an ice cream tub as a mould) and the action of licking the ice will help cool your pet.
7. Keep old, overweight and unwell pets in a cool spot indoors on hot days.
8. Finally, never, ever, leave your pet in a parked vehicle – even with the windows open. On a 22-degree day the interior temperature of a car can reach 47-degrees within one hour.

Be mindful of these simple tips and you and your pets will enjoy a safe, stress-free summer.




Product of the week: Complete Mix Grain/Gluten Free
A nutritionally balanced every-day feed for dogs with grain/gluten allergies, diabetes, irritable or inflammatory bowel disease, early renal or liver failure or a history of unresponsive allergies. And did you know that the low carbohydrate content in Complete Mix Grain/Gluten Free makes it ideal for cats with urinary tract issues and diabetes? Simply use the puppy-feeding chart on the packet as a guide.
Dr Bruce Syme

Dr Bruce Syme is a practicing vet and animal lover who founded Vets All Natural 20 years ago with a simple mission, to "Improve the health and longevity of dogs and cats". Dr Bruce is an expert in natural pet nutrition, has spoken at the Australian Veterinary Association Annual Conference, and provides regular comment on TV and Radio.
Disclaimer: The entire contents of this newsletter is based upon the opinions of Dr. Bruce Syme, unless otherwise noted. Individual articles are based upon the opinions of the respective author, who retains copyright as marked. The information in this newsletter is not intended to replace a one-on-one relationship with a qualified pet health care professional and is not intended as medical advice. It is intended as a sharing of knowledge and information from the research and experience of Dr. Bruce and his community. Dr. Bruce encourages you to make your own pet health care decisions based upon your research and in partnership with a qualified pet health care professional.

© Copyright 2013 Dr Bruce Syme and Vets All Natural. All Rights Reserved.