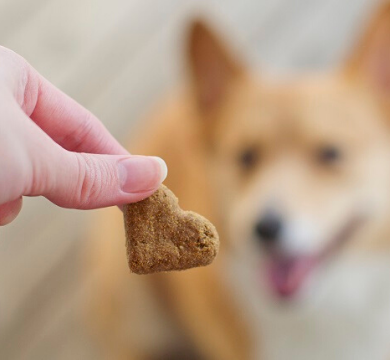 Dog Biscuit Appreciation Day
February 23 is Dog Biscuit Appreciation Day, so guess I'll be in the kitchen!

I'm a baker. Not the cake kind, but more of the bread kind. I won't lie... I'm a bit of a messy baker, so my pets love it when I'm in the kitchen because they know I'll drop plenty of tidbits for them. Accidentally, of course.

So this Sunday, for Dog Biscuit Appreciation Day, I intend to get messy as I bake them these doggy biscuits. Not promising they will look as pretty as this, but they'll taste great!

Are you intending on baking for your dogs on Sunday? Why not drop me a line and let me know. Maybe you have a favourite recipe. Share your photos over on Facebook so we can see who nailed it!
Bone broth Doggy Biscuits
Ingredients
1 1/4 cup wholemeal flour
3 tbs oil
1/3 cup chicken or beef bone broth (I used this one)
1 carrot, finely shredded
1 small bunch of parsley, finely chopped (or just put it int he food processor if you're using one)
1 tsp Simply Seaweed (optional)
1 rasher of bacon - fried until crispy and chopped fine

Instructions:
Preheat oven to 180 degrees

Line a baking sheet with parchment paper or a cookie sheet

Mix all ingredients in a bowl or a food processor. You may have to add a little more bone broth or flour to get a rollable consistency.

Turn out onto lightly floured surface and roll to around 3mm thickness (the thickness of a 20 or 50 cent coin)

Use cookie cutters to cut into desired shapes, or cut into squares and place on prepared sheet.

Bake around 15-20 minutes until nice and golden.

Makes around 12 biscuits, depending on your size and shape.

To dry out the biscuits for longer shelf life, turn off the oven and keep the biscuits in the oven until it completely cools.

NOTE:
*I use this bone both instead of commercial stock because it contains no salt, sugar or artificial ingredients.
*I don't give my dogs flour-based treats often. These are a "sometimes" treat.

PS. Instead of just "giving" your dog a bikkie, why not stuff a treat dispenser like a KONG. Give them a fun challenge!