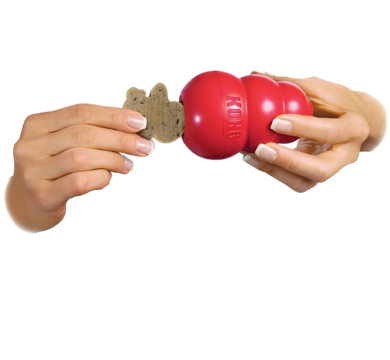 Tips to make your Kong More Fun & Tasty!
The Kong Classic - it's the perfect first toy.
You can toss it and it'll bounce like crazy, and you can stuff it with dog food, or treats or anything else your dog likes. Also, put simply, most dog like to play with their food, and a Kong Classic gives dogs the opportunity to do just that. It's the dog toy that keeps on giving.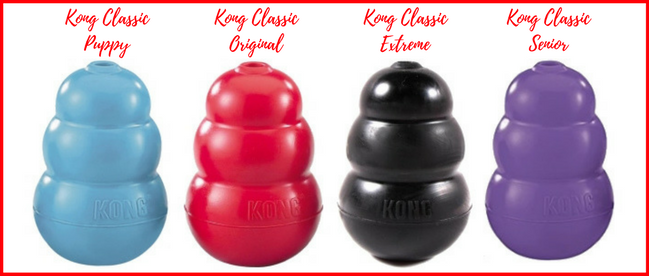 It may sound strange, but most dogs need to learn to use a KONG Classic, so we've compiled a list of tips for choosing the right size and type of Kong Classic, as well as recipes to get your pup drooling!
1. Size for safety
It's important to use the right size KONG so that your dog can have the safest, most enjoyable experience. Not sure where to start on sizing? Check out the KONG User Guide
2. Engage to ensure success
Dogs can absolutely play on their own, but at the start, get your dog excited about their new KONG. Show it off and talk about it excitedly; maybe even play a little hard-to-get to pique their interest and show them what their new toy can do.
3. Stuff it to entice and extend playtime
Many dogs are motivated by food and KONG toys are perfect for stuffing with treats or kibble to keep dogs busy. The key is to stuff loosely so that the food will come out of the toy easily. To entice your dog, try using a little bit of peanut butter or their favorite treat in the KONG.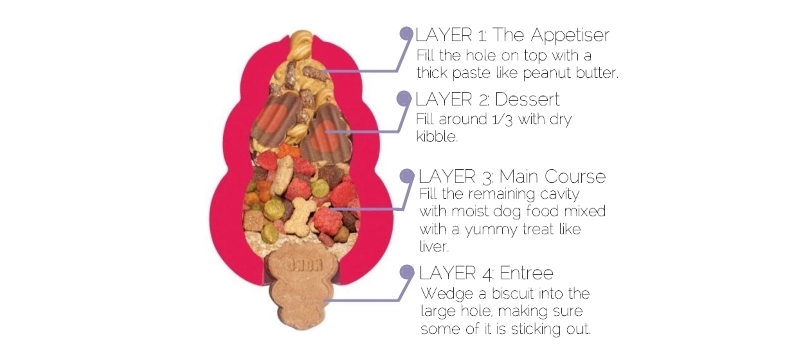 4. Freeze for greater challenge
Over time, your dog will learn how to get treats out of the KONG quickly. To increase the challenge, put together a mixture of wet and dry ingredients, stuff the KONG and freeze it. A frozen KONG heightens the experience by creating a long-lasting, mentally stimulating task. Wondering what to freeze in your dog's KONG?
Why don't you try one of these recipes for a change!
Chicken Pot Pie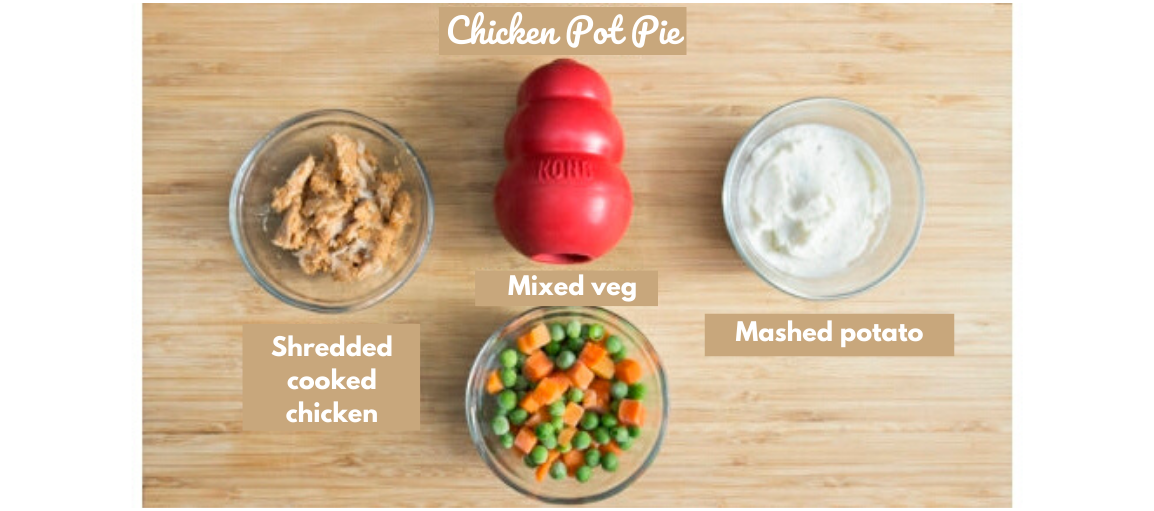 1/2 Cup Cooked Chicken
1/2 Mashed Potatoes
1/4 Cup Frozen Peas and Carrots
Licks & Love
Mix all ingredients together and fill your Kong.
*This recipe will fill several KONGs depending on the size used
Fido's Farmhouse Feast

*This recipe will fill several KONGs depending on the size used
Ingredients:
4-5 whole carrots
1 cup of pumpkin puree
1/2 cup unsweetened dried cranberries
1 cup applesauce
1 cup baby spinach
1 Tsp KONG Easy Treat Paste (any flavour)
Kong Farmyard Friends Treats (to stopper the end)
Mix all ingredients together in a bowl. Split mixture between KONGs and freeze.
*Please contact your vet to find out what foods and quantity is right for your pet. Always give treats in moderation.