Interceptor for Dogs - A Convenient and Tasty All Wormer that even beats Heartworm!
Interceptor Spectrum is a convenient and simple way to protect your dog against heartworm and the major intestinal worms. One tasty chew monthly all year round is all it takes to give your dog a lifetime of protection against even the most dangerous worms.
Interceptor Spectrum protects against heartworm disease, roundworm, whipworm, hookworm and tapeworm
Interceptor Spectrum can be given to puppies from 2 weeks of age and pregnant dog
Interceptor Spectrum Tasty Chews prevent heartworm (Dirofilaria immitis) and control roundworm (Toxocara canis, Toxascaris leonina), whipworm (Trichuris vulpis), hookworm (Ancylostoma caninum, Uncinariastenocephala) and adult tapeworm (Echinococcus granulosus, Dipylidium caninum, Taenia pisiformis) in dogs.
Heartworms are the deadliest of all canine parasites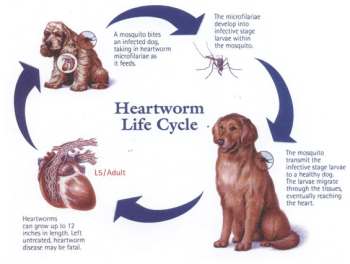 Tapeworms are common parasites of the small intestine of dogs and cats.
Dosage and Administration
The dose can be added to a small meal or placed directly in the mouth, similar to tablet dosing.
Once a month, ideally on the same date.
If a dose is overdue by more than 15 days, treat immediately and resume monthly dosing.
If a dose is missed by 15-30 days, heartworm prevention can be maintained if treated immediately and monthly dosing resumes for at least the next 2 months.
If a dose is missed by more than 60 days, a veterinarian must be consulted in case the animal has contracted heartworm. Dosing may be recommenced, and a blood test for adult heartworm must be performed after 6 months.
Dog weight

Dose size

Pack colour

0-4kg

Very small dogs

Orange

4-11kg

Small dogs

Green

11-22kg

Medium dogs

Yellow

22-45kg

Large dogs

Blue

When to Worm

Puppies

2, 4, 8, 12 weeks of age, then monthly

Adults

Once a month

Pregnant Dogs

At mating, before whelping, then monthly
Safety
Interceptor Spectrum Tasty Chews can be safely used in puppies from 2 weeks of age, breeding males and females, pregnant females, and in collies sensitive to ivermectin.

If an animal with adult heartworm infection (and therefore circulating microfilariae) is given Interceptor Spectrum Tasty Chews, a transient shock-like reaction can occur. To avoid this, dogs should be tested for adult heartworm and treated if necessary, before starting Interceptor Spectrum Tasty Chews.

Studies have confirmed safety at up to 10 times the recommended dose.
Please note: Due to USA regulations, we are not permitted to ship this item to the United States.
Specifications
| | |
| --- | --- |
| Brand | Interceptor |
| SKU | interceptor-large |
| Pet | Dog |
| Category | Flea Tick & Wormer |
| Treatment Type | Heartworm |
Other People Also Purchased