Sleep without Interruption - Install the Original Staywell PetSafe 2 Way Pet DLP10740oor (White, Brown or Grey/Silver)
When you install a PetSafe Staywell® pet door, you'll finally get a full night's sleep without toilet interruptions.
Why do you need a Petsafe Staywell Pet Door:
Convenience for you during meals, at night, and when you're out - you won't have to worry about letting your pet in or out throughout the day or night.
Convenience and protection for your cat or dog - they can go outside for exercise and come back inside when it's too hot or cold.
Hygiene - You can choose to eliminate the litter tray.
Eliminate toilet anxiety - Pets can sometimes scratch furniture and doors if they can't get out when they ave to go out! The fact is, allowing your pet to come and go at will builds his confidence. Unwanted behavior problems such as destructive chewing, furniture clawing and excessive barking can often remedy themselves when your pet is no longer dependent upon you to let him out.
Features:
Weather resistant flap
Transparent rigid flap with magnetic seal
Lockable security barrier so you decide which pet comes in and out
Magnetic seal on flap
Barrier locking system and a clear, hard flap
Can be installed in wood doors and walls.
Easy to install with the minimum amount of effort. Full details and clear, simple instructions are enclosed with every product.
3 year Guarantee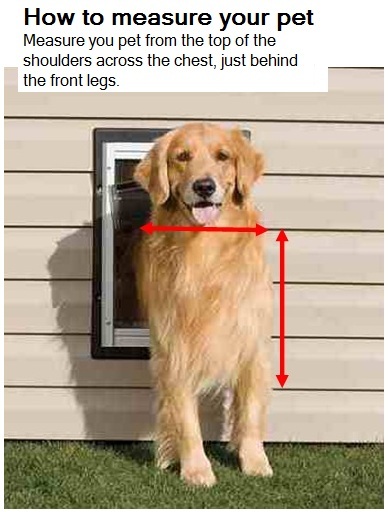 Three Sizes available:
| | | | |
| --- | --- | --- | --- |
| Size | Overall Size | Cut Out Size | Max. Pet Shoulder Width |
| Small | 236 x 198mm | 185 x 158mm | 147mm |
| Medium | 352 x 295mm | 280 x 237mm | 220mm |
| Large | 467 x 390mm | 37cm x 315mm | 290mm |
| | |
| --- | --- |
| Fits | Wooden Doors, Brick Walls, PVC / Metal |
| Colour | White, Brown or Grey (Silver) - Please select from the available colours above |

System Includes:
* Original pet door
* Locking barrier
* Transparent flap
Petsafe Staywell Doors include a 3 Year guarantee, which means there is no risk to you.
Specifications
| | |
| --- | --- |
| Brand | PetSafe |
| SKU | LP10740 |
| Category | Doors |
3-Year Manufacturer's Warranty & Lucky Pet's 30-DAY 100% MONEY BACK GUARANTEE... We guarantee that you and your pets will love your purchase and will be more than happy with the quality. Give your pet some time to adapt to a new product – that includes a new toy, treat, food or even a bed – but if it you're not completely happy, contact us within 30 days. That's a full month so that you can be sure of your purchase. If you're not 100% satisfied within 30 days, drop us a line and return the item in its original condition and packaging. We will send you a full refund. See store policies for details.
You Might Also Like
Other People Also Purchased